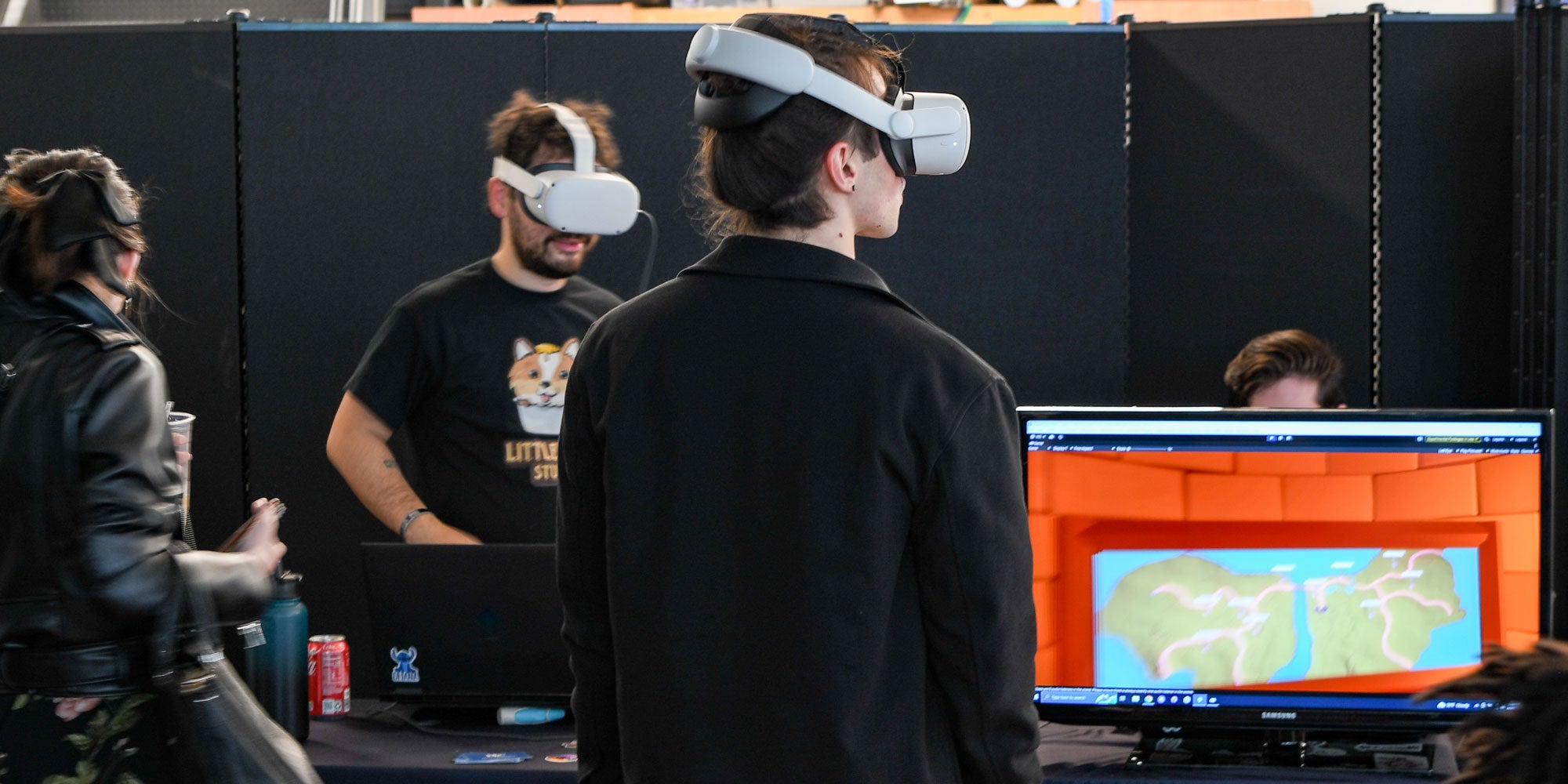 Becoming a GSAS Major
This page is for current RPI students looking to add or change majors to GSAS. 
For prospective RPI students interested in applying to GSAS, please see our admissions page.
Current students, to become a GSAS Major, you must apply.
On this webpage, you will discover more about Games and Simulation Arts and Sciences (GSAS), and how to join the program (either through a dual major or switching your major to GSAS). This is an incredibly competitive program for those already enrolled at RPI. Please understand that there are a limited number of openings available each semester. Not being admitted may not be a reflection of your talent. We will always encourage you to pursue your passions regardless of the results.
Please read this webpage in full!
You will find the application on this page.
Application Deadlines and Details:
Who can apply?
Incoming RPI Students (during the summer before your first term).
Current First Year and Rising Sophomore Students.
Due to the courseload requirements of GSAS, students applying to add the program after their first year often need to plan to stay for at least an extra semester.
Deadlines to apply: For Current Students and Incoming First Year Students
Fall Semester Deadline: December 15th
Spring Semester Deadline: May 15th
Summer Deadline (for incoming students ONLY): TBA
We accept applications to the program toward the end of each term and make admissions decisions at the very end of the term. For Fall-term admissions, we often accept another round of students in late-August.
When will you hear back from GSAS?
Within two weeks of the above-mentioned deadline.
This is not a rolling application process. All submissions will be reviewed at the same time.
This is an incredibly competitive program. We ask that you register for next semester's courses as if you will not be accepted to GSAS. If you are accepted, our advisors will be available to support schedule changes (including overrides).
Other important details:
Whether you plan to dual or to change your major to GSAS, you must apply to the program.
Accepted GSAS Duals: Computer Science, Cognitive Science, Electronic Arts, Management, Music, and Communication and Design. (We cannot accept dual applications from other majors at this time).
Application Materials:
Prepare - Your Portfolio: 
The portfolio is required for all current students. It should be a collection of your work. Our faculty will review each portfolio and use what they learn to guide you through your first registration. The insight provided through your materials will be used to connect you to a GSAS faculty advisor.
The Portfolio is a great chance to express your creativity! We ask that you present any games you have made in video form to focus on the highlights, rather than a file.
Step 1! Select your GSAS Concentration!
Please review this information carefully. You should tailor your portfolio and application materials to one of the available GSAS concentrations.
What should your Portfolio include?
3-5 examples of original works representative of the program.
Make sure to identify work that aligns with GSAS and your chosen GSAS Concentrations.
 
Portfolio Description Sheet: A list of items in the portfolio. For each item, list:

Medium (such as "original composition", "3D animation", "videogame", or "program")
Year created
For collaborative projects, list your role and responsibilities on the team
Any relevant details on the work
Notes for Specific Media Types Included in Portfolio:
Digital games, Mods, Levels, and Interactive Media: Windows, Mac, or Linux compatible. Include:
All required files for your game to run
Detailed installation and play instructions
Written description of the game, tools used to create it, and your role if it was a team project
Image and/or video documentation of the game
Playable Physical Games (board games, card games, etc):
Submit image and/or video documentation
Include written description of the game and rules
Images: still images in JPG or PNG format.
Video: Should be uploaded directly to the Box Folder
Recommended resolution: 640x480 or higher
Recommended formats for video files: AVI, Quicktime, WMV, or Ogg/Theora
Recommended compression: for AVI, Quicktime, and WMV: MPEG-4 or H.264 Audio: MP3 or Ogg/Vorbis
Acceptable formats for portfolio items are DOCX, PDF, AIFF, WAV, MP3, QUICKTIME, JPEG, or PNG. Allowed media types and size limits are as follows:
Images (up to 5MB each)
Video (up to 250MB each)
Audio (up to 30MB each)
PDFs (up to 10MB each)
3D Models
Prepare - The Plan of Study:
This is a semester-by-semester plan that shows how long it will take for you to complete all graduation requirements. In your plan, you must draw attention to...
Prerequisites for advanced courses: are your courses listed in the correct order?
Courses that are Spring Only, Fall Only, or Summer Only: are you placing all courses in the correct semester based on when they are offered?
Duals: Are you including all the requirements for your non-GSAS major?
Find and download a GSAS or Blank template for your Plan here.
If you need support developing this plan, please meet with your current Academic Advisor!
Prepare – Statement of Intent:
In 1 to 2 written pages, go beyond your love of games, and really explain how this major will help you meet your professional goals! Describe your interest in the major, why you would like to enter the program, and what your goals are. List any relevant experience, including courses you've taken, programs you have participated in, and projects you have completed.
Also, be certain to note whether you're looking to change your major or add GSAS as a dual.
The Application:
Required Materials: Items 1 – 4 are required.
Applications missing any of the following will automatically be dismissed. Use the information and advice above to best develop and organize these requirements.
Statement of Intent
The Plan of Study
The Portfolio (examples of your work)
Portfolio Description Sheet
Optional Supporting Materials:
Any other materials that would help your application to the major including faculty references, recommendation letters, or other materials.
Submit: Upload the entire content (files) of the portfolio within one folder in Box.
The entire portfolio is submitted online via Box.
Please request a Portfolio box folder through HASS Student Services (hassinfo@rpi.edu).
If you don't have a Box @RPI account, you can request one here.
Download this Checklist to stay organized! 
Best of luck!