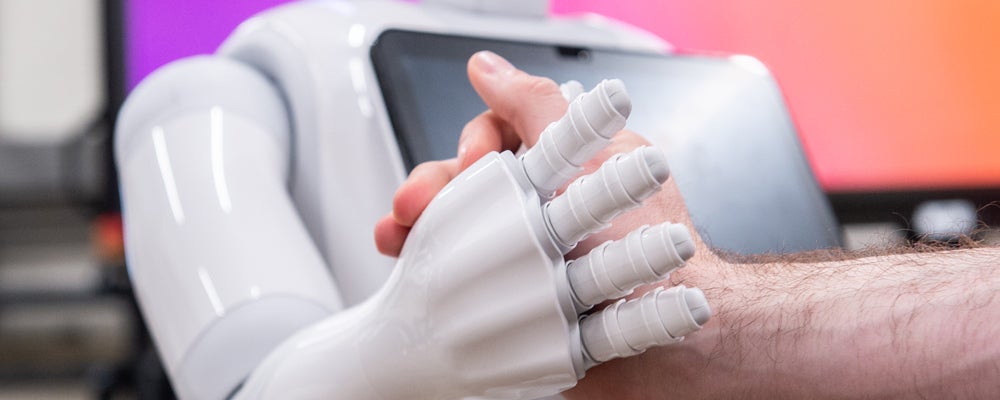 Research in the School of Humanities, Arts, and Social Sciences reflects our faculty's uniquely interdisciplinary way of looking at the world. Funded research in HASS spans the investigation of phenomena from the very small scale to the very large scale, as well as the interconnections that occur in between.
CENTERS AND LABORATORIES
Center for Deep Listening — Deep listening, as developed by the late composer and pioneer Pauline Oliveros, explores the difference between the involuntary nature of hearing and the voluntary, selective nature of listening. The practice includes bodywork, sonic meditations, interactive performance, and listening to the sounds of daily life, nature, and one's own thoughts, imagination, and dreams.
CISL — The Cognitive and Immersive Systems Lab (CISL) at Rensselaer is building the next generation cognitive and immersive situations room to augment group intelligence. Researchers in CISL come together from multiple disciplines, including computer science, cognitive science, computing systems and engineering, arts, media, communication, and health care.
CogWorks Laboratory — Researchers in the CogWorks Laboratory conduct basic and applied research, uncovering the interplay of cognition, perception, and action in routine interactive behavior. Topics of research include integrated cognitive systems, computational cognitive modeling, cognitive engineering, and much more. The lab's approach includes traditional experimental paradigms as well as video games and other complex tasks, which are treated as experimental paradigms.
Corridor of Creativity - Located in the Sage Labs building, the Corridor of Creativity helps students take their projects from ideation to reality. Comprised of multiple spaces - the Digital Fabrication Lab, Metal Shop, Motion Capture Studio, Sculpture Studio, and Wood Shop - students, with the mentoring of labs' staff, take their lessons out of the classroom and create real world, functional prototypes.
Center for Global Communication+Design (Comm+D) — The Center for Global Communication + Design is a free resource for all members of the Rensselaer community, providing strategies that help people be more effective communicators — in the classroom and beyond.
Adaptive Computational Cognition Laboratory (AdaCog) — Researchers in the AdaCog Laboratory study how the human brain can perform complex tasks in uncertain environments. This question is approached from an engineering perspective: How should one build a system that can perceive, remember, act, etc., according to rational principles, while subject to biological constraints on information processing capacity?
PandA Laboratory — PandA Laboratory researchers explore intelligence by studying the tight linkage between perception and action. Basic questions about visual perception, motor control, and coordination are addressed by investigating routine and skilled perceptual-motor tasks, with a specific focus on visually guided actions. Experimental research is conducted in real and virtual environments, and mathematical models are developed using tools from dynamical systems theory and artificial intelligence.
Rensselaer Artificial Intelligence and Reasoning (RAIR) Lab — RAIR Lab researchers work across a number of applied projects, as well as across many of the fundamental questions artificial intelligence raises (e.g., Are we machines ourselves? If so, what sort of machines?). Everything is to a high degree unified by the fact that the formalisms, tools, techniques, systems, etc., that underlie the lab's research and development are invariably based on reasoning.
Translational Humanities Research Immersive Learning Laboratory (THRILL) will create a flexible research and immersive learning environment that includes virtual, augmented, and mixed reality utilizing high-resolution visual and auditory display, enveloping the senses to spur creative inquiry across the humanities.
Cognitive Architecture (CogArch) Laboratory — Researchers in the CogArch Lab focus on developing comprehensive models of human cognition (cognitive architectures).
---
RESEARCH TOPICS
Interdisciplinary research in the Arts Department includes projects like cognitive architecture that enable intelligent agents to reason and intuit, so that we can better understand how artists use these two cognitive abilities in order to create.
Cognitive Science researchers are investigating how perception shapes action and how vision guides the accomplishment of both simple and complex human tasks under varying circumstances and constraints. Other research investigates how we use background knowledge and context to understand language even when what is being said is ambiguous, novel, ungrammatical, and/or metaphorical.
Communication and Media researchers are interested in media theory and practice. Faculty examine the representation and formation of ideas and identities in various media texts. They investigate how people communicate effectively and creatively across multiple platforms or how immersive technologies affect learning and play. Areas of research include cross-cultural communication, data visualization, graphic design, and embodied communication.
Economics researchers are employing new models to analyze the effects of various incentive-based carbon dioxide emissions regulations and exploring behavioral economics and the emerging field of neuroeconomics — the interrelationship between neuroscience and economic decision-making.
Games and Simulation Arts and Sciences researchers are working in ​interactive simulation, augmented and mixed reality experience design, virtual reality, contemporary social theory, game culture, embodied conversational agent (ECA), computational modeling of decision-making and emotion, and human-computer interaction (HCI).
Science and Technology Studies researchers are involved in post-colonial and development studies; food, agriculture, biotechnology, and rural communities; and environmental sustainability. STS faculty also investigate the contemporary science, culture, and political economy of genomics; others explore minority cultures to identify elements from within that culture that can be used to design and build web-based tools that help K-12 students succeed in math and science. STS researchers also employ ethnographic and experimental methods in order to "think through" and constructively engage the cultural dynamics of environmental and other complex problems.