Students seek to answer a critical question: How can science and technology contribute to a sustainable, democratic, and just future for everyone?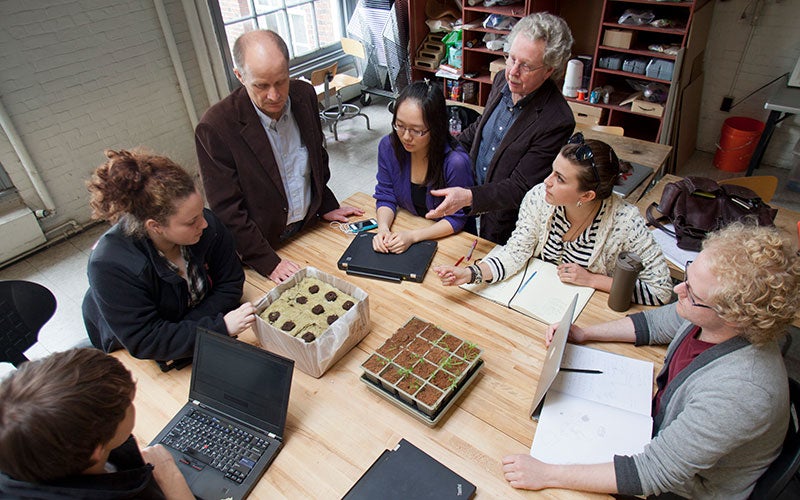 Designed for Dual Majors
This interdisciplinary program facilitates dual majoring with design, engineering, life sciences, sustainability, physics, and more.
Making Sense of the Social
Detect patterns, analyze contradictions, dig deep to probe what others skim, and learn to ask better questions about where we are and how we got here.
Interdisciplinary Perspectives
Connects the past, present, and future through the lenses of history, anthropology, sociology, political science, and design studies.
Program Overview
The B.S. in Science, Technology, and Society (STS) at Rensselaer is a multidisciplinary social science and humanities degree program devoted to critical inquiry about the mutual shaping of science, technology, and society — learning to think in sophisticated ways about complex topics like illicit drug use, the global food system, robotics, genetics, water pollution, and climate change.
Students investigate developments in areas such as biology and medicine, information technology, and engineering, while examining how people live, think, and solve problems in different regions of the world.
STS provides students with an interdisciplinary curriculum in history, philosophy, anthropology, sociology, political science, and design studies.
Program Outcomes
Students who graduate from this program will have the ability to:
Think critically about contemporary social problems, recognizing the matrix of factors that shape problems and constrain solutions.
Research, write, and communicate effectively about complex social issues.
Identify applications of social science and humanities knowledge to careers in industry, law, medicine, and public policy.
Develop a research project that can launch graduate and professional studies.
Cultivate a global perspective and an understanding of cultural differences.
Analyze and respond to multiple viewpoints.
After Graduation
Graduate studies
Our graduates go on to advanced study in law, medicine, public health, and the social sciences.
Career Opportunities
An STS degree opens doors to careers that are meaningful and change-oriented. Our graduates are able to step into professions that require knowledge of society and politics, research and communication skills, and a multidimensional understanding of science and technology. Many graduates with dual majors work in science, engineering, and other fields, and find that their education in STS helps them excel as versatile and creative professionals, focusing on issues and ideas that matter to them.