Making sense of social and technoscientific change requires conceptual and methodological tools honed within a vibrant intellectual community. The STS PhD program combines anthropology, cultural studies, history, and sociology to examine science, technology, media, and medicine from multiple perspectives. The program emphasizes community engagement with the politics of science and transdisciplinary investigation of research and policy cultures. We document how science and technology are shaped by social forces—and how we might shape them back!
Program Overview
Students who earn a PhD in Science and Technology Studies at Rensselaer translate new understandings of science and technology into improved scientific and technological practices and policies. Graduates of this program are known for their global reach, theoretical breadth, and critical ethical engagement. They pursue research into questions and problems that extend beyond the boundaries of any single discipline. 
Our curriculum offers a robust mix of core seminars, theory and methods, and topics courses in a 2-year rotation to survey critical analytical skills and fields. Graduate students are generally supported as Teaching Assistants during course work. After that there is a range of internal and external fellowships for which students become eligible. 
The Graduate Portfolio Review is the first milestone for a PhD student. The portfolio is assembled during  coursework to document breadth of knowledge across three self-determined domains of STS. Following a successful portfolio review, and in consultation with a Doctoral Committee, students write and defend a Dissertation Proposal and Literature Review and undertake independent research on a self-defined topic. Dissertation research and writing lead to doctoral defense within 2-3 years. 
Those interested in graduate study in STS should submit an application for the PhD program. The STS Department does not accept external applicants for a stand-alone Master's degree, but students may earn a Master's degree while working toward a PhD.
The STS Department also offers a five-year co-terminal B.S./M.S. in Science and Technology Studies. Current Rensselaer undergraduates interested in this degree program should request further information from their faculty advisor and the STS Graduate Program Director. 
Program Outcomes
Our doctoral program in STS prepares students to conduct cutting-edge research based in three core practices:
Scholarly analysis of historical and contemporary cultures of research and innovation.
Critique of the public policies, social practices, and political-economic institutions that shape, and are shaped by, scientific discovery and technological design.
Direct participation in collaborative projects that bring about change in the domains of science, medicine, design, and engineering.
Spotlight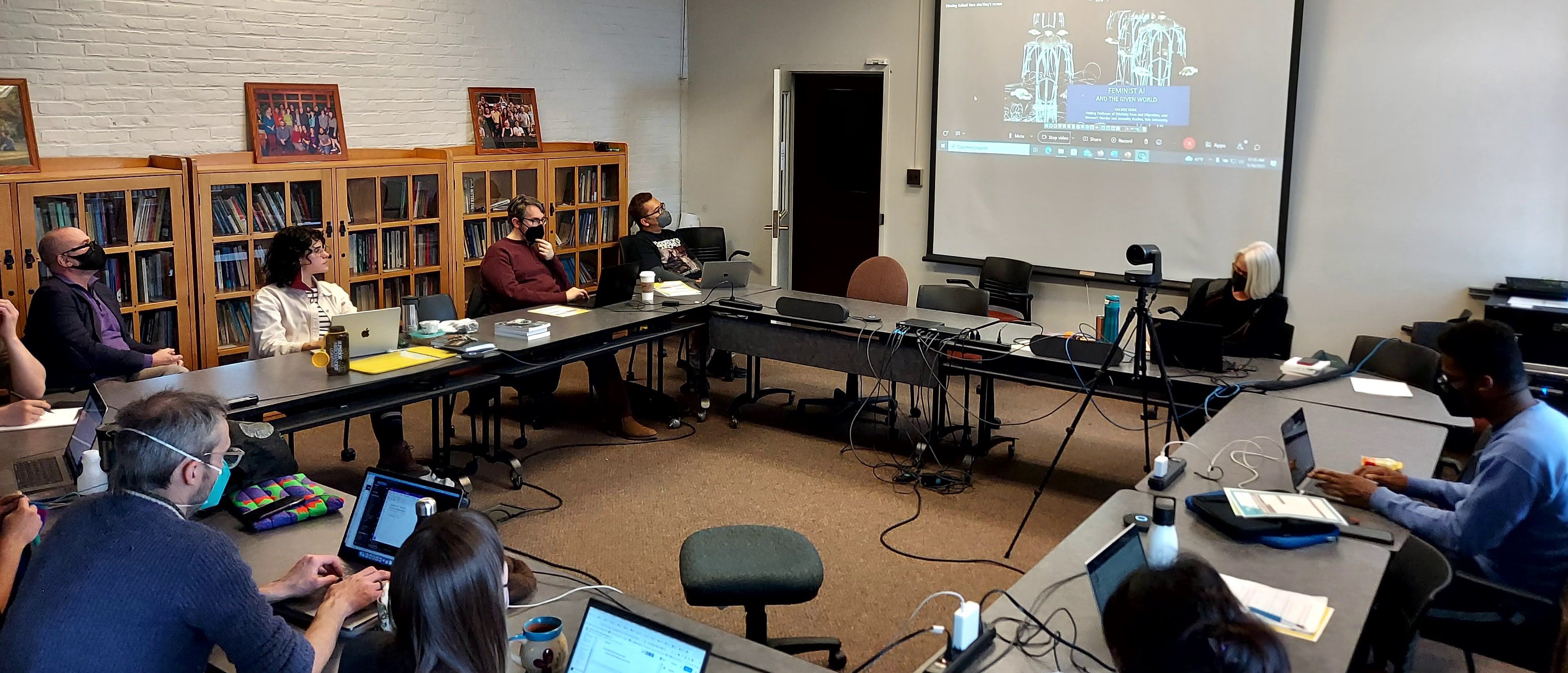 STS PhDs in residence enjoy gathering in the STS Grad Lounge, which adjoins the STS Grad Seminar Room and co-located offices for STS graduate students and faculty. This includes a library, curated over time by graduate students for graduate students. The collective life of the STS department includes an STS Colloquium series, a series of brownbag lunches at which work-in-progress and professional development workshops are presented, and public events on campus and beyond.
Our graduate students come from numerous academic backgrounds and bring with them unique perspectives on science, technology and society. Read about our current PhD students here!
After Graduation
STS graduate education empowers PhDs to engage in social and political change. STS PhDs think on their feet with theoretical grounding. They influence current dialogue over how science, technology, and medicine might be used to promote human flourishing and resilience. They work in academic and policy settings on wide-ranging topics that matter for social justice.
Recent graduates hold postdocs or faculty appointments at: Arizona State University; College of William & Mary; Drexel University; Indiana University; Michigan State; New Mexico Tech; Rockefeller Institute of Government; Smith College; Stanford University; Temple University; University of Texas at Austin; University of Utah; Yale University; and others. Alumni are publicly engaged intellectuals all over the world: IIT Hyderabad; Nanyang Technological University in Singapore; University of Chittagong in Bangladesh; Kyung Hee University in South Korea; and Concordia University and University of British Columbia in Canada.