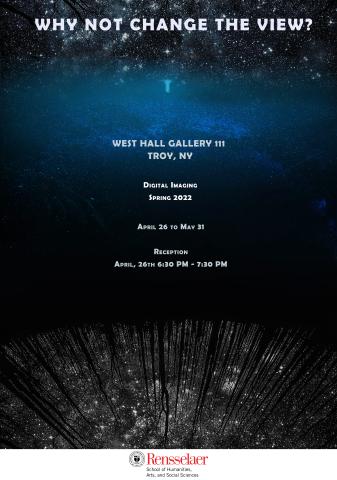 "Why Not Change The View?", an exhibition by students in Professor Kathleen Ruiz's class, Digital Imaging Spring 2022.
The students wanted to reflect our school motto of "Why Not Change the World?" in applying the knowledge and skills they acquired over the course of the semester. Artworks in the show range from personal geographies, engaging and unusual portraits, concepts of utopias, 3d toys, animation, and even a mechanical jellyfish that cleans plastics from the ocean.
Bring your mobile devices as many of the works have animated augmented realities that will come to life! The exhibition opens Tuesday evening, April 26, 6:30pm to 7:30pm and runs until the end of May. We look forward to seeing you in West Hall Gallery 111!
For more information please contact Associate Professor Kathleen Ruiz ruiz@rpi.edu