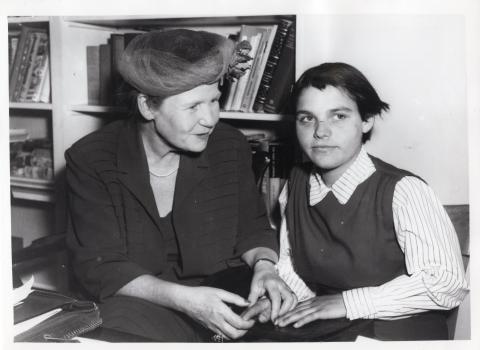 Over sixty years ago, a shepherdess from Central France became the ingénue author of two novels. According to her publisher, the retired mail carrier in her village helped the barely literate girl of 16 transcribe her fantastic stories, which became critically acclaimed. The story of Berthe Grimault impressed Muriel Orr-Ewing, the headmistress of The Grove Finishing School, who extended an invitation to Berthe to study among a class of elite young women. The Pygmalion tale made the international press, with Orr-Ewing claiming that Berthe's attendance was a type of experiment. While at The Grove, Berthe's identity became unclear, and her acclaimed talents suspect. Berthe: "Pig girl among the debs" is a multimedia installation at both EMPAC and online, which tells the story of the teenager's time at The Grove from three perspectives:
from the voice of the media, and from Orr-Ewing's and Berthe's conflicting accounts. Berthe is part of a larger series of works which employ the archive as an expressive medium and as a platform for 21st century storytelling. Produced in collaboration with Alex Derwick, J.T.
Rinker, and Berry Zhu, this project is the inaugural exhibition of photographs and other materials from the newly established Berthe Grimault Archive.
NOTE: For RPI students, faculty and staff who intend to visit the installation at EMPAC, please email tennac@rpi.edu to schedule a visit.
Viewing times are 4/1 11-4 & 4/2 from 11-4, every hour on the hour.