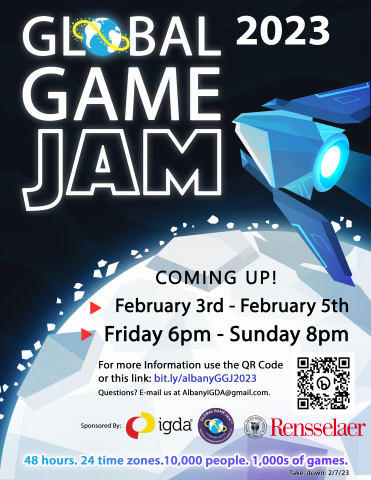 Location: Sage 2411, 2510, 2704, 2715
The Global Game Jam (GGJ) is the world's largest game creation event featuring tens of thousands of participants at physical and virtual locations around the world. For the first time since the start of the pandemic, IGDA (International Game Developers Association) Albany is partnering with the RPI Game Hub and RPI's Game Development Club to host a satellite location for GGJ 2023.
Like the Game Dev Club's monthly jams, the GGJ will allow for remote and in-person participation. The in-person kick-off will begin on Friday, February 3 at 6pm in Sage's VAST Lab and the jam will run through Sunday, February 5 at approximately 8pm. The physical venue will be closed 2am-8am on both Saturday and Sunday.
All participants must register at the following link as soon as possible in order for us to have an accurate headcount: https://globalgamejam.org/2023/jam-sites/igda-albany. Please also feel free to join the Discord at https://discord.gg/NNR7NjFj.