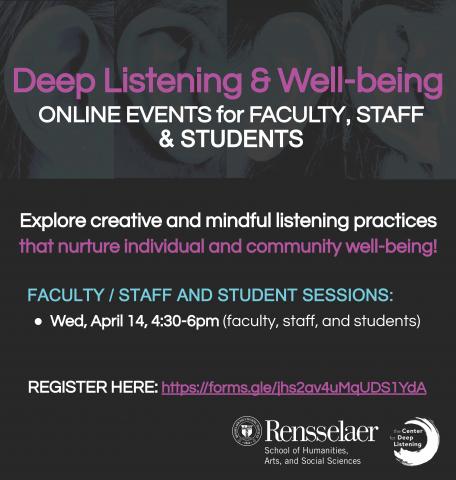 The Center for Deep Listening at Rensselaer  is offering an online workshop on Deep Listening & Well-being, open to all RPI faculty, students, and staff. Join us for an exploration of mindful listening practices, creativity, collaboration, and play!
Event date: Wed, April 14, 4:30-6pm (open to RPI faculty, students, & staff)
Register here! https://forms.gle/jhs2av4uMqUDS1YdA
More about Deep Listening:
Deep Listening is a creative practice of mindful listening, developed by composer Pauline Oliveros, that encompasses bodywork, sonic meditations, interactive performance, and listening to the sounds of daily life, nature, one's own thoughts, imagination and dreams. It cultivates a heightened awareness of one's environment, both external and internal, and promotes experimentation, improvisation, collaboration, playfulness and other creative skills vital to personal and community well-being!
About the Deep Listening & Well-being Research Project:
All participants are also invited to participate in a research project investigating the impact of Deep Listening on well-being. (Participation in the research project is *not* necessary to participate in the workshop!) Participation in the research project consists of:
Filling out a brief pre-workshop surveyFiling out a brief post-workshop survey

Responding to a few brief questions during the workshop

The total additional time commitment for the research participation is about 30 minutes. 
Research participants will be entered into a draw to receive one of three Amazon gift certificates of $25.
***
For more information, please reach out to Alicia Walf (Cognitive Science) at walfa@rpi.edu or Stephanie Loveless (Arts) at lovels3@rpi.edu