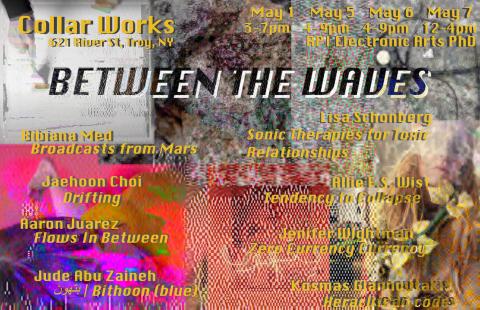 PRESS RELEASE
Between The Waves
at Collar Works Gallery
621 River Street, Troy, NY    
May 1-7 2022
Hours:
Sunday May 1, 3-7pm [Opening Reception & 5pm performance by Kosmas Giannoutakis] 
Thurs May 5, 4-9pm
Friday May 6, 4-9pm
Saturday May 7, 12-4pm
Featuring:
Jude Abu Zaineh
Bibiana Med
Jaehoon Choi  
Kosmas Giannoutakis
Aaron Juarez
Lisa Schonberg
Allie E.S. Wist  
Jenifer Wightman

Between the Waves features a dynamic range of works in interdisciplinary and new media by Electronic Arts PhD candidates at Rensselaer Polytechnic Institute. A variety of mediums and formats will be exhibited, including sound installation, interactive audio, performance, sculpture, and print works. The collective works challenge the edges of their respective mediums in order to prompt our imaginations towards possible futures and reconsider our understandings of the past.  
For further information please contact:
Allie alliewist@gmail.com  
Lisa lisaannschonberg@gmail.com 
---
Abridged Biographies + Work Descriptions

Jude Abu Zaineh, ﺑﺘﮭﻮن | Bithoon (blue)
Jude Abu Zaineh is a Palestinian-Canadian interdisciplinary artist and cultural worker. Her practice employs art, food, and technology to investigate meanings of culture, displacement, diaspora, and belonging. Abu Zaineh's work examines ideals of home and community and recalls visual tropes rooted in her childhood and upbringing in the Middle East. She has presented her work at the Art Gallery of Windsor; Museu de Arte, Arquitetura e Tecnologia, Lisbon; and Centro de Cultura Digital, Mexico City. Currently, Abu Zaineh is pursuing her PhD in Electronic Arts at Rensselaer Polytechnic Institute, Troy, as a SSHRC Doctoral Fellow, and holds an MFA from the University of Windsor. She lives and works in upstate New York and Windsor, Ontario.

Jaehoon Choi, Drifting
Jaehoon "Jason" Choi is a computer musician and sound artist situating embodiment in an intermediary space, with the focus of sound, sonic experience, and computer music.
Drifting is a most recent iteration of the Brushing Series that expands brushing gestures into a sonic performance. In this project, the brushing interface developed in Brushing III is used for a solo performance that dynamically connects various gestures with a wide range of sound palette. This creates a deeply layered sonic timbre space (Wessel 1979) that is intertwined with sound and gesture. This performance suggests a poetic yet rich expression that drifts through the nuanced materiality, bodily-gesture, and the dense cultural context of brushing through a real-time performance.

Kosmas Giannoutakis, Heraclitean codes
Kosmas Giannoutakis in an experimental musician and researcher who investigates alternative political economies of music by means of Distributed Ledger Technologies.
Live-coded sonic streams entangled with text generation, will attempt to explore imaginative and absurd associations of the surviving philosophical fragments of Heraclitus and sonic thinking. The underlying concept of flux will serve as the common denominator while the performance is an initial experiment on collaborative live-coding that tracks and records any cross-references on a custom-made blockchain.

Aaron Juarez, Flows In Between
Aaron Juarez is a glitch serendipitist, bringing novelty from experimental interactions with digital structures.  
This series of digital prints convey layered experiments in digital and analog media which synthesize and extend the fragmentary materiality of screen printing with the post-liquid digital intelligence of glitch. Reflecting on translations between flows of electrons and acrylic paint, these works bring serendipitous expression via entanglements of surprise. 
Bibiana Med, Broadcasts from Mars (QSN-TV Programming: Basic Earth Package)
Bibiana Med is a media installation artist who fuses documentary, science fiction, performance, and emerging archives of interplanetary surveillance on Mars in order to destabilize our existing iconographies of space.
Broadcasts from Mars are the latest collection of film performances from space created for television by Queer Space Network Television (QSN-TV). QSN is a collaborative media and performance space lab (in development) that uses documentary and anti-colonial science fiction in an attempt to create new imaginaries for human presence in space. This iteration of the work is a multi-channel video and sound installation of recent video works.

Lisa Schonberg, Sonic Therapies for Toxic Relationships
Lisa Schonberg is a percussionist, sound artist and composer who makes work based in entomological and ecological inquiry.  
Sonic Therapies for Toxic Relationships is a selection of sound compositions that invite re-consideration and re-configuration of individual behavioral patterns through exposure and immersion. The addition of percussion and electronic instrumentation to soundscape compositions of insects, anthrophony, and plastics presents possibilities for moving beyond anxiety and avoidance, and towards intentional exchange. The works include, rather than hide, human-made sound (anthrophony) to encourage listeners to consider humans as actively engaged, rather than as controllers or spectators.

Jenifer Wightman, Zero Currency Currency
Jenifer Wightman is science based conceptual artist interested in the co-evolution of life and landscape.
Currency at its root, implies a flowing transaction, an intimate reciprocity, a proximal this-for-a-that, a gift exchange. In biology, the web of life is a roaring metabolic economy --flipping electrons in complex reaction networks-- simultaneously destroying-and-building a constantly changing world. Two new works --Counter Fête and gRift-- contrast the Valuation of abstracted paper currencies with cycling biological currencies.

Allie E.S. Wist, Tendency to Collapse
Allie E.S. Wist is an artist-scholar with a focus on sensory futures, food, and the Anthropocene.
The main work exhibited is an iteration of Wist's Anthropocene AnArchive, a series which encourages the collapse of ontological boundaries for an epoch defined by a breakdown of nature/culture binaries. The work focuses on waste, and includes 'recipes' for reconfiguring material relationships, edible and ephemeral materials created in collaboration with chef Josh Coletto (Nighthawks), and visual media encounters with landfills and trash archives. A second, smaller installation features an aroma cube through which visitors can experience the story of an extinct, monocropped banana varietal.
Full Biographies
Jude Abu Zaineh is a Palestinian-Canadian interdisciplinary artist and cultural worker. Her practice employs art, food, and technology to investigate meanings of culture, displacement, diaspora, and belonging. Abu Zaineh's work examines ideals of home and community and recalls visual tropes rooted in her childhood and upbringing in the Middle East. She has presented her work at the Art Gallery of Windsor; Museu de Arte, Arquitetura e Tecnologia, Lisbon; and Centro de Cultura Digital, Mexico City. Currently, Abu Zaineh is pursuing her PhD in Electronic Arts at Rensselaer Polytechnic Institute, Troy, as a SSHRC Doctoral Fellow, and holds an MFA from the University of Windsor. She lives and works in upstate New York and Windsor, Ontario. www.judeaz.com

Jaehoon "Jason" Choi (b. 1992) is a computer musician / sound artist / researcher who is based in New York and Seoul. His practice and research are focused on situating embodiment in an intermediary space, with the focus of sound, sonic experience, and computer music. His works have been performed at festivals and symposiums such as ICMC, Art Center Nabi, EIDF, Visions Du Reel, CEMEC UCSD, CEMEC Stanford, Bing Concert Hall, and received commissions from ZER01NE, Korea Creative Content Agency and etc. He also collaborated with incredible artists in different disciplines such as Sariel Golomb (Dance/Theatre Art) and Yeon Park (Film). Jason is currently pursuing a Ph.D. in Electronic Arts at the Rensselaer Polytechnic Institute and graduated from Stanford University's Center for Computer Research in Music and Acoustics (CCRMA) as a Masters.
https://ccrma.stanford.edu/~j3819443/portfolio/index.html

Kosmas Giannoutakis studied piano and percussion performance, composition, and computer music in Greece, Germany, and Austria. Currently, he is attending the Ph.D. Electronic Arts program at the Rensselaer Polytechnic Institute, with a focus on experimental, blockchain-powered, post-capitalist political economies of music. His works have been presented and received awards in various international festivals and conferences.
www.kosmasgiannoutakis.eu

Aaron Juarez is an interdisciplinary artist-researcher currently residing in Troy, New York as he pursues the PhD in Electronic Arts at Rensselaer Polytechnic Institute. He employs disjunctive strategies between art and science, exploring and designing experiments with digital structures to engage serendipitous occurrences. His theoretical research interests include issues in creativity and cognition via human-computer interaction, as well as topics in digital humanities that consider the nonhuman agency of technology. He has contributed writings, code, and artworks to online venues and various galleries in America and Europe. His investigations challenge perceptions of functionality and naturalized experience by testing the limits of digital structures and reaching unexpected and unfamiliar renderings. photoniclabs.tumblr.com

Bibiana Med (b. Czech Republic) is a media installation artist who fuses documentary practices, archival research, science fiction, and technologically mediated performance. Currently they are developing a media platform dedicated to support the creation of new imaginaries for Mars. Their work has been shown at EMPAC, Troy NY, Benaki Museum, Athens Greece; their work has been included in projects that have been exhibited at the Whitney Museum of American Art, New York NY (2017), MoMA PS1, Queens NY (2015) and has been reviewed in Hyperallergic, ArtFCity and Feature Shoot. Bibiana is a PhD researcher at Rensselaer Polytechnic Institute, founder of Pickled Press and Queer Space Network.
https://bibiana.co and https://queerspace.network
 
Lisa Schonberg is a composer and percussionist creating sound works based on ecological research. Informed by her background in entomology, Schonberg is interested how these sound works can reveal and challenge assumptions about insects and other overlooked and/or avoided nonhumans. She has been collaborating with Brazilian entomologists on ATTA
(Amplifying the Tropical Ants), a project investigating ant bioacoustics in the Amazon. Her other recent work includes investigations of old-growth forests in Oregon, endangered Hawaiian Hylaeus bees, and plastics. Schonberg's compositions are often performed by percussion ensembles Secret Drum Band and UAU. www.lisaschonberg.com

Formally trained in Environmental Toxicology, Jenifer Wightman has dedicated the last 20 years identifying ways to reduce greenhouse gas emissions from agriculture, forestry, energy, and waste systems. Her art practice engages microbial systems living and bio-synthetically painting in small vessels. These microbes (that replicate every 20 minutes in a finite vessel of soil, water, & sunlight) provide a model system for studying our own sustainability (our reproduction every 20 years on a finite planet of soil, water & sunlight). She is interested in the biotic and abiotic exchange that drives the co-evolution of life and landscape. audiblewink.com

Allie E.S. Wist is an artist-scholar currently working on an Arts PhD from Rensselaer Polytechnic Institute with a focus on sensory futures, food, and the Anthropocene. Her work encompasses photography, radio broadcasts, artifacts, dinners, and writing that render timescales and futuristic speculation accessible through material and sensory narratives. She looks at the role of food, taste, and smell in our perception of multi-temporalities and multi-species communities. She has an MA in Food Studies from New York University and a BA in Media from Boston University, and worked in food media for over a decade. Her artwork has been exhibited with Honolulu Biennial, The Wellcome Collection, and HESSE FLATOW, and she has taught at NYU and The New School.www.alliewist.com