The art of communication is the core of innovation. We take pride in graduating exemplary communicators and engaged citizens who contribute meaningfully to their professions and exert lasting impact on their communities, locally and globally.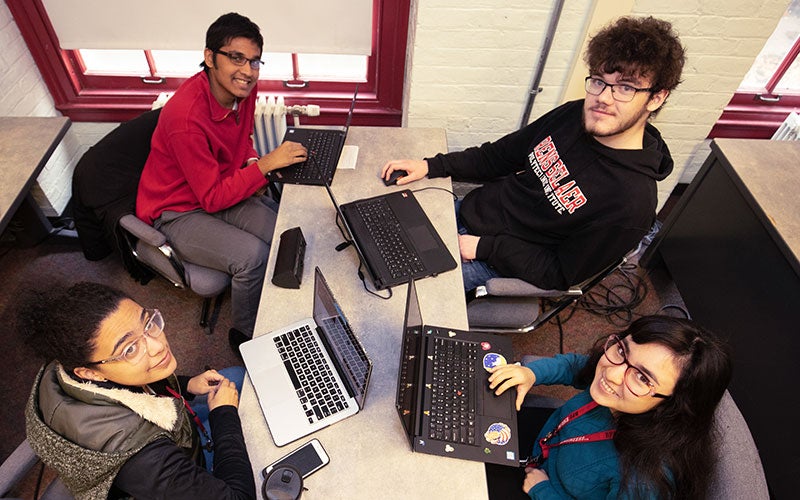 Develop a Versatile Skill Set
Learn to navigate and shape an ever-evolving media landscape.
Combine Theory with Practice
Connects theory with practice to produce versatile, professional, and creative communicators.
Designed for Dual Majors
Flexible 40-credit program benefiting students pursuing degrees in engineering, the sciences, and management.
Program Overview
The B.S. in Communication, Media, and Design (COMD) emphasizes language, media theory, and design in multicultural, multimedia environments. The core of COMD focuses on communication studies; specifically, strategic and creative writing, media theory, and design. COMD explicitly provides theory and practice to communication and media. The curriculum is designed to train versatile, professional, and creative communicators across a range of media literacies, genres, and formats.
Program Outcomes
Students who successfully complete this program will be able to demonstrate an ability to:
Design and conduct research using empirical data, theory, and secondary sources.
Define and explain key disciplinary concepts.
Apply key disciplinary frameworks or principles to interpret or analyze written, visual, or multimedia text, or social/cultural phenomena.
Apply both traditional and digital technology to create a visual image or text that conveys a concept, creates an aesthetic effect, or serves a practical function for the audience.
After Graduation
Our graduates work in all sectors of the profession — both public and private — as skilled practitioners, managers, and consultants.
They have the skills to design and develop effective communication packages, to work with leading-edge media, and to collaborate with other technical professionals to produce specialized packages of integrated graphic and textual information to suit the needs of diverse audiences.

Our graduates enjoy success in a variety of careers, including:
Graphic and multimedia designers
Usability engineers
Information architects
Instructional and interface designers
Technical communicators
Animators and entertainment industry professionals
Game industry professionals
Internet industry professionals
Educators
Industry and academic researchers
Entrepreneurs